Annyeong! I have something horrible to share...
I have been pigging out. A lot.
Perhaps it's due to how I feel that I have so little time left to prepare for my work trip next week. Have been doing some quick research on what I can do in Yeosu, Korea during my three-week work stint there. To aid my rather poor short-term memory, here's a short list of the places I wanna visit!
1. Odongdo
"Essentially a botanical garden, the island of Odongdo is crisscrossed by a deliciously scented network of pine- and bamboo-lined path, and has become a popular picnicking destination for local families. A 700m-long causeway connects it to the mainland, and if you don't feel like walking you can hop on the bus – resembling a train – for a small fee. The island's paths snake up to a lighthouse, the view from which gives a far clearer rendition of Yeosu's surroundings than can be had from Jinnamgwan in the city centre. In the summer, kids love to cool off in the fountain by the docks on the northern shore – the water show comes on every twenty minutes or so." - via
roughguides
The pictures are super cool aren't they. Makes you feel like you've been transported into the pages of Wuthering Heights, what with the craggy rocks and crashing waves. Maybe that should be my outfit inspiration when I go take pictures with rocks there ;) Note to self: buy comfy walking shoes before going!
2. Naganeupseong Folk Village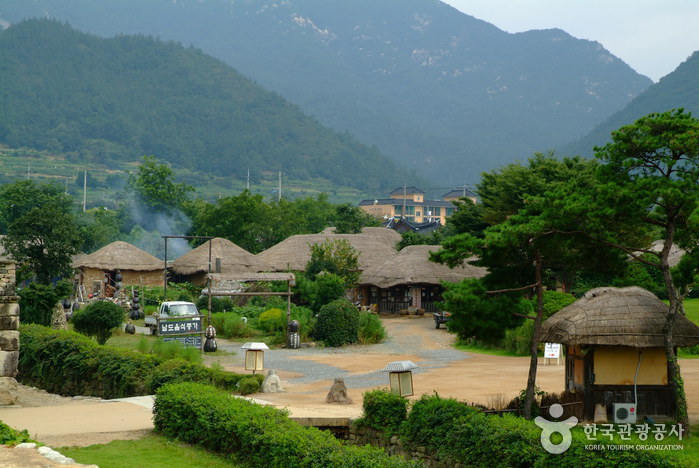 "Naganeupseong Folk Village is located in Jeollanam-do Province, and contains a town castle that is over 18,000 Pyeong (1 pyeong = 3.3 sq m) in size. Within the east, south and west of the castle, about 100 families still reside, and the castle area has been very well preserved. You can observe the daily dwellings indigenous to the south provincial area such as the kitchen area, the clay rooms, and Korean-style verandas. There are also 9 houses designated as important cultural resources, and numerous straw-roof houses as well.
When you enter the front gate of Naganeupseong Folk Village, on the east side of the castle (called "Nakpung-ru"), you see a straight road leading to town. Follow along this road and you will come across the General Im Kyeong-Eop Monument, resource center, and other interesting sites. You may also walk to the end of this road, climb up to the castle itself, and walk along the castle wall to the south. The entire castle is exceptionally well-preserved, and you can view the whole town from the top level." - via
visitkorea
Well this is pretty far away (in Suncheon, a forty-minute trip out of Yeosu apparently), but it seems like a pretty eye-opening experience! And there are NO rocks to take pictures with. Yey. Oh and I found this really great
blog post
to read up on!
Too tired to do more in-depth research now. I'll be baaaackkk. Nights!